Eliptični trenažeri su pogodni za sve uzraste bez obzira na nivo fizičke kondicije, jer postoji mogućnost podešavanja opterećenja u zavisnosti kondicije vežbača.
Možete smanjiti otpor za brže vežbanje ili ga povećati kako bi radili napredne vežbe za oblikovanje mišića.
Bez obzira na to da li ste početnik ili trenirate godinama – samo 25 minuta treninga pružiće vam potpuno zatezanje mišića i kardio vežbe.
Eliptični trenažer sagoreva otprilike 13 kalorija u minuti!
A to je 325 kalorija u 25 minuta, ili 780 kalorija u sat vremena, što nadmašuje vežbanje na većini ostalih sprava.
Vaše noge nikad ne napuštaju pedale trenažera, pa, bilo da se krećete kao da idete napred ili unazad, ne postoji mogućnost povreda, jer imate konstanti oslonac.
---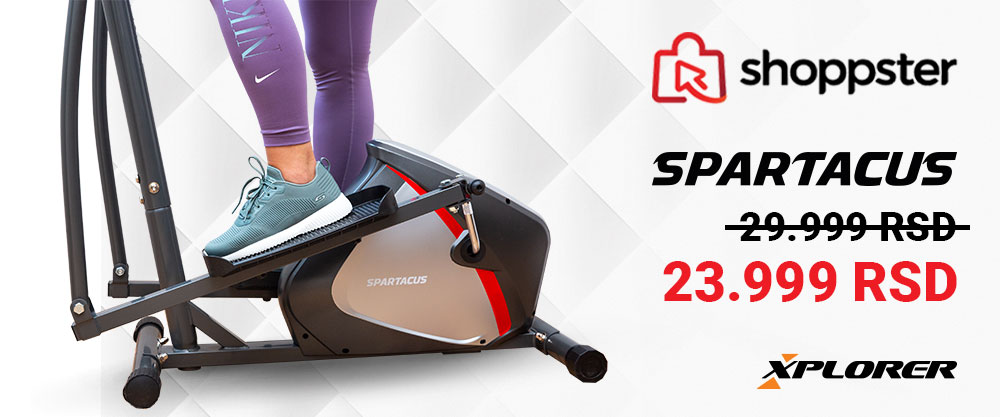 Xplorer Spartacus po SJAJNOJ CENI sada kod našeg partnera Shoppster.rs! Za više detalja kliknite OVDE!
---
PREDNOSTI ELIPTIČNOG TRENAŽERA
– maksimalno smanjuje stres i opterećenje kičme, kolena i zglobova
– vežbe možemo prilagoditi svom ritmu
– oblikuje noge i učvršćuje kolena u isto vreme,
– ubrzava cirkulaciju,
– poboljšava metabolizam, kondiciju i fleksibilnost,
– prilagođen je svima bez obzira na godine ili fizičku spremu,
– jača cirkulativni sistem,
– smanjuje višak masnog tkiva,
– sagoreva čak do 780 kcal u 60 minuta
– jednostavan za korišćenje